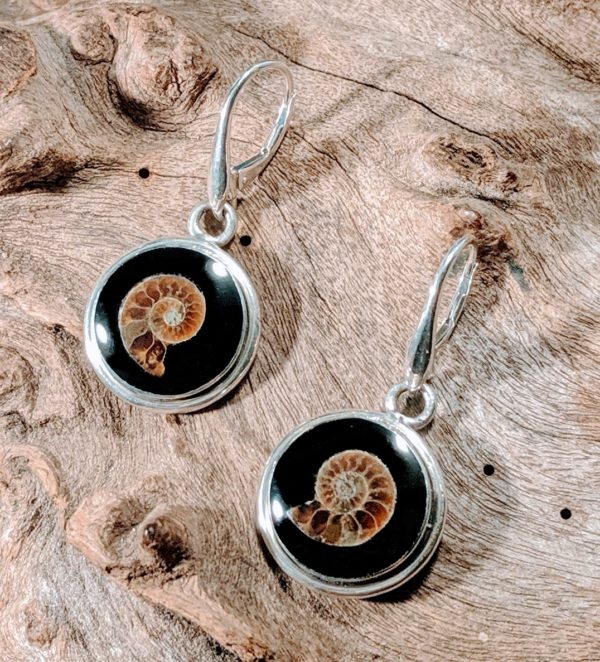 Round Ammonite Inlay Earrings £245.00
---
     Round Ammonite Inlay Earrings. These stunning earrings are set in stylish enclosed back, sterling silver settings and presented on sterling silver continental lever back fittings. While each pair of earrings will be made from the two halves of an original ammonite fossil no two Ammonite fossils are identical so therefore each pair of our Round Whitby Jet Inlay Earrings are by nature totally unique.
Each Ammonite is painstakingly and expertly inlaid into the Whitby Jet by ourselves in
our workshop.
       The connection between the town of Whitby and the use of Whitby Jet is obvious to most however the towns connection with the Ammonite fossils perhaps less so. Whilst we now know scientifically that geological circumstances have given us the resources of both the Whitby Jet and the ammonites , it is to a very influential and historic woman, St Hilda, that we can thank for the lore and legend of how the ammonites came about. You can discover more about St Hilda and the ammonites (or "Snakestones"),
here.
       If you look closely at the towns coat of arms then you will notice that the legend still lives on to this day, as sitting proudly on it are three Whitby ammonite fossils.
                These  Whitby Jet and  Ammonite Inlay Earrings really do make a statement and tell a story all of their own. Can anyone ask for more from a piece of jewellery.
---