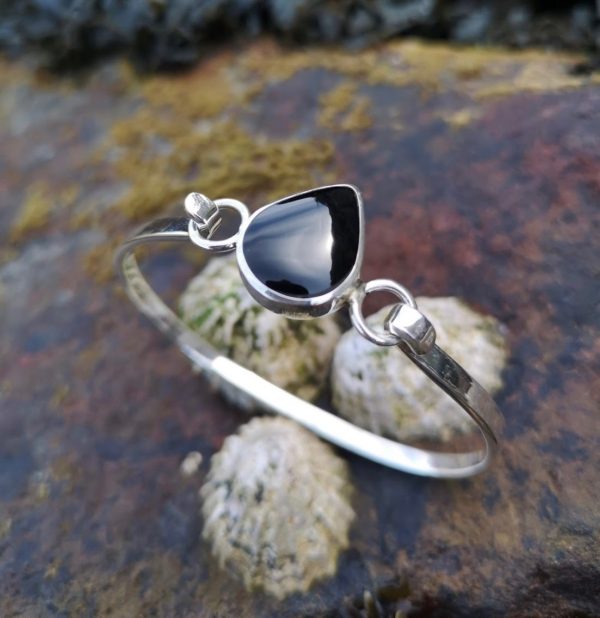 Teardrop Whitby Jet Bangle £165.00
---
Whitby Jet Teardrop Bangle. This stylish design is a new addition to our collection. Created in our design studio and workshop here at 138 Church St Whitby, in the heartland of historic Whitby Jet working. The teardrop top measures approx 20mm long  x 15mm across  its widest point. The teardrop is set on a comfortable oval shaped sterling silver bangle wire which measures approx 65mm x 50mm with an inside circumference of approx 185mm. This measurement is generally accepted as fitting a medium wrist size.
The "Teardrop" also sometimes referred to as a "Peardrop" provides an attractive shape for us to set Whitby Jet into and has been an ever present style in our collections over many years but only really as pendants or earrings. So here at last we have the perfect matching bangle.
As with all our pieces, we only set the finest gem quality Whitby Jet into them. Each piece is verified as genuine and of acceptable quality to use by our in house expert and professional Gemmologist (FGA, DGA) ,who specialises in researching all  things Jet, especially Whitby Jet.
The silver setting is tested, (assayed )and hallmarked at the Sheffield Assay Office and carries a full British hallmark. 
The bangle is presented in a hinged leatherette gift box, comes complete with our Whitby Jet information which also serves as guarantee of genuine Whitby Jet, along with one of our "Ebor Jetworks' branded gift bags.
A message from the bench!  Archie says…… I hope you like this new design. It was one of the first pieces i was asked to come up when i joined the "family firm" after completing my degree in contemporary jewellery design and silversmithing. So its quite a special one for me.
Out of stock
---
£195.00