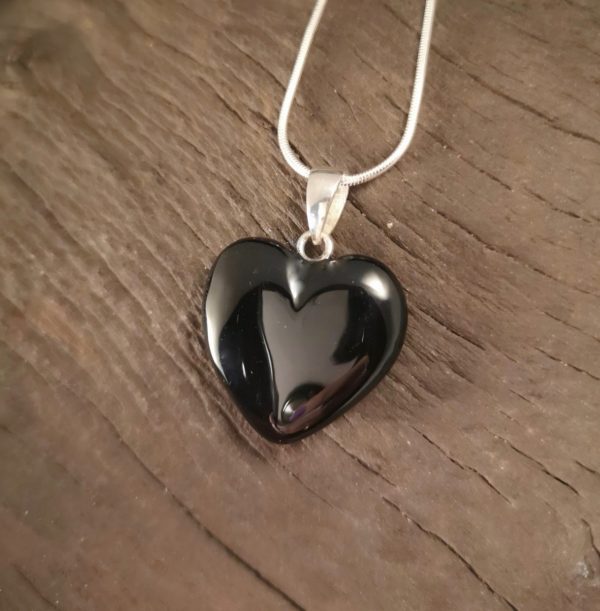 Whitby jet Puff Heart Pendant £125.00
---
This classic heart shaped design pendant has, over the years, become a must have piece for anyone who loves Whitby or of course has  someone special in their lives. Set securely on a sterling silver bail, this particular heart measures approx 22mm x 24mm although as each is made individually by hand the size can vary a little from this.
Whitby jet is incredibly light in weight so is easy to wear, making it ideal for larger sized pieces of jewellery. Another often surprising attribute of Whitby jet is that the material is not cold to the touch, infect its almost warm, and as this particular piece  has no silver back it would be in direct contact with the wearer so again making it comfortable to wear.
As with all our work, only the finest gem quality pieces of Whitby jet are used. Gathered responsibly from our local shoreline around the Whitby area, the raw material is then inspected  to verify its quality by our professional in house senior accredited gemmologist (FGA DGA)  before being passed onto our talented team of craftspeople to work their magic on.
The heart is supplied to you on a sterling silver chain ,as featured in the image, which is available in a choice of lengths. The piece will be presented in a stylish Ebor Jetworks branded gift box along with gift bag and Whitby jet information leaflet which includes your certification of authentic Whitby Jet.
---
£150.00